Roddick def. Dent 6-4, 6-7(2), 7-5
Whew. That was a
bad
match. Or, if you prefer two-hour unforced error-prone WTA-style matches, with a lot of cursing and yelling, then it was a brilliant match.
click to see video highlights.
Facts and figures show that Andy Roddick, not Roger Federer or Rafael Nadal, is the most complete player of 2005.
For most of the match, Andy was out-played, out-volleyed, and out-aced by Fat Taylor (21 aces to Andy's measly 7) but as is often the case with top ten players, Andy dug deep and found a way to win. Face it, on paper, this was one of those matches where Andy should have flat-out lost. But he didn't. The Rocket Man pulled another trick out of his
J-Lo-sized rump
and saved his own skin. How, I don't know. His first-serve kept being returned back to him and his forehand went wild during several games, but he played better on the big points while Dent kept giving him early Christmas gifts. Another lost tiebreak (0-6 now in major tournaments) Andy also managed to save an astounding 11/11 BPs (8 of them in the third set)! Here's my Oh! face.
Andy's thoughts on the match: "I feel like Taylor might have actually played the better match tonight," Andy said. "He served pretty well tonight, mixed it up, kept me off balance.
[click link to hear audio]
This is one of those where I feel fortunate to have gotten through.
He kind of gave it to me." Merry Christmas, to you.
So congrats to Andy for pulling off the win (somehow). But Dominik Hrbaty--Andy's next opponent and Roger Federer's nightmare--is up next
(Andy leads their head-to-head 3-1)
and Andy knows he will need to get that forehand under control if he wants to get to the quarterfinals.
I have just one small complaint about the all-white clothing Andy's been sporting since arriving in Europe: this isn't grass season, Andy. Please ditch the boring Wimbledon whites and
rediscover some color
to match your colorful personality. Thanks.
Another astounding Roddick statistic: this is his 85th service games won in a row. Whoop. There it is.
20 photos from today's match were added to my Photobucket gallery, including a few hard-to-get pics from Wireimage. Enjoy.
ADDENDUM
Day 4 Paris Masters Preview: Roddick and Ginepri last American hope
As Ivan Ljubicic and Thomas Johansson will fight for a place in the quarterfinals and a chance to clinch a spot for Shanghai, No. 1 seed
Andy Roddick
will face Dominik Hrbaty. His compatriot Robby Ginepri will also attempt to reach the last 8, when playing 2004 French Open champion Gaston Gaudio.
Roddick-Hrbaty
Andy Roddick will attempt on Thursday to win his seventh consecutive singles match. A winner in Lyon last week, he captured on Wednesday an extremely dangerous duel against his countryman Taylor Dent in three tight sets. Although he didn't produce his best tennis all the way against Dent, Roddick's ability to play well when he needed to – he saved 11 break points – should give him some valuable confidence for today's obstacle. His opponent will be solid Slovakian Dominik Hrbaty, who's enjoying an exciting end of season, as he will soon lead his country in the Davis Cup final in Bratislava. On Wednesday, Hrbaty had little trouble defeating French lucky loser Jean-René Lisnard. His task should be much tougher in the third round as Roddick defeated him three out of four times so far.
News:
•
Andy's post-match interview (def. Dent)
•
Service king Roddick dreams of second Grand Slam
•
Honesty can be a mirage
•
Roddick keeping feet on the ground
•
Unbreakable: Roddick Saves 11 Break Points To Deter Dent
•
Roddick tops Dent
•
Roddick survives Taylor's assault
•
Roddick rides to Paris rescue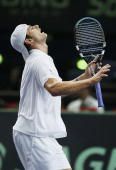 "I can't believe I saved all those break points and still sucked!"