21 photos from the Paris Masters semifinal have been added to my photo gallery. Enjoy.
TV Alert! The Food Network will be doing a special called "Behind the Bash: Taste of Tennis" on Nov. 9 at 9:00pm and on Nov. 13 at 11:00pm. Andy has attended Taste of Tennis for several years now so maybe they will interview him or show him making a nuisance of himself in Emeril's kitchen.
The ATP Tennis website has finally given Andy his own special page. Go take a
look.
Andy Roddick and Sir Elton John get directions from Billy Jean King, right, during the annual charity tennis event benefiting the Elton John AIDS foundation Monday, Nov. 7, 2005, in Hershey, Pa. (AP Photo/Bradley C Bower)
Hmm. Looks like Andy's back is A-ok. Or maybe it's just A-ok for charity events but not for Masters Cup events. Depending on your point of view, this could either be good news ("Hurray! Andy's back is healed!") or questionable news ("Why is he playing tennis at a charity event with a bad back with only a few days left before the Masters Cup starts!?") Such is the life of being a Roddick fan. Love him for his devotion to charity. Hate him for his lack of common sense. Andy would play on crutches if the event had the words "save the children" in it.
It's ironic, because Andy himself had called for a
shorter season
just a few weeks ago, precisely because of all the injuries players sustain. The player-injury dilemma at this past masters series has irked Paris tournament director Cedric Pioline to no end, and many sports fans and writers have been compiling injury reports and writing editorials throughout the year in an effort to get a public discourse rolling on what the ITF can do to fix this problem. The
Times Online
website reports:
Firstly, five of the six marquee players of the men's game offered their apologies in the form of doctor's certificates. Then, just 17 months after revering Gaston Gaudio as French Open champion, an exasperated Parisian public vented its disgust by booing the Argentine off the court after an embarrassingly half-hearted performance saw him lose without winning a game in the second set of his quarter-final.

Now tournament director Cedric Pioline, denied the services of Roger Federer, Rafael Nadal, Lleyton Hewitt, Marat Safin and Andre Agassi, must placate his sponsors and pacify the paying public by presenting a far from enticing final between an accomplished but hardly charismatic Croat (Ljubicic) and an undeniably talented but unseeded 20-year-old Czech (Tomas Berdych, a 6-1 3-6 6-3 winner over compatriot Radek Stepanek).

Apart from Safin, most are expected to be fit for the grand finale Masters Cup that begins in Shanghai in a week's time. Not surprisingly, Pioline is questioning his misfortune. As a former top-flight competitor, he understood the reasons but it did not diminish the irritation at being forced to change the posters advertising the event numerous times in recent weeks.

"I am perplexed more than angry," said the 36-year-old. "But something has to be changed. They (the players) . . . are on a merry-go-round that is getting too fast. I know only too well what it's like."
So while we wait to get official word about whether Andy is going to Shanghai or not, check out this
French article
on Andy. If you can't read French, then here's the
Googled
version that makes my French look spectacular.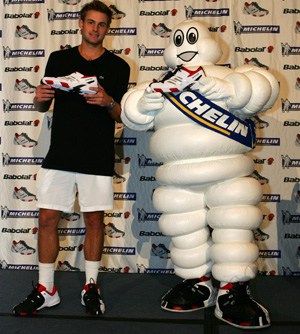 Michelin Man, you make me feel fat.