Here's more proof that the ATP is really an acronym for
Abush The Players
:
ATP to fine Roddick, Hewitt, and Safin for Shanghai withdrawal

Three players will be fined by the Association of Tennis Professionals for withdrawing from the Tennis Masters Cup starting Sunday in Shanghai.

Andy Roddick, Lleyton Hewitt, and Marat Safin all pulled out this week.

Roddick cited a back injury.

"I apologize to the loyal fans and sponsors that have expected my participation in Tennis Masters Cup," Roddick said Tuesday. "It is an honor for me to have qualified for this event for the third-straight year. I realize the tremendous amount of time and effort the ATP and the Chinese government have spent on the event, and know it will be a huge success. I look forward to getting healthy, starting my off-season workouts for the 2006 season, and working towards qualifying for Shanghai next year."

Hewitt withdrew to be with his wife, actress Rebecca Cartwright, who is expecting the couple's first child. Safin cited a knee ailment.
***
So with Roddick withdrawing from The Masters Cup, his 2005 season is now officially over. No doubt the amateur tennis pundits who clutter the tennis boards on the web will have their say on just how "disappointing" Roddick's year has been.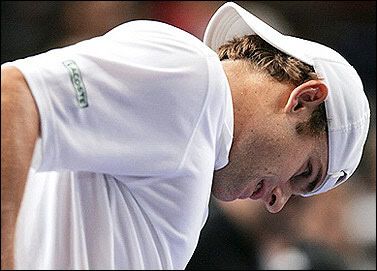 Roddick's 2005 year wasn't his best but it was far from his worst.
Eurosport
lists some of Andy's notable achievements this year:
2005 Win-Loss: 59-14
5 titles
Leads ATP statistics for aces (778)
service games won (92%)
and is ranked second in first serve points won (81%)
and break points saved (71%)
Not bad for an "off-year". These are numbers anybody ranked 4 through 300 would kill for, but because Roddick is a former grand slam champion and World No. 1, the expectations are much higher for him and when he doesn't deliver on his promise, the going gets tough. Hence, the recent cluck-clucking he's been getting in the press since his disastrous first-round outing at the US Open a few weeks ago. But I think Roddick understands and expects this, and he expects more from himself as well. He's had some luckless moments this year (such as the ten-minute meltdown during his semifinal match vs. Hewitt at the Australian Open which resulted in an avalanche of bad press for him; the Davis Cup nightmare earlier this year vs team Croatia when nothing was clicking for team USA (Roddick was the only one to win any of his singles matches but he still lost the clincher to Ivan Ljubicic), another dream lost; losing a two-set lead over Jose Acasuso at the French Open--the first time that's ever happened to him; first-round losses to players he shouldn't be losing to such as Paul-Henri Mathieu, Ivo Karlovic, and Gilles Muller (the last of which issued another avalanche of critical press for him). The whispers have been getting louder by the month: Andy's lost his indimidation factor, he's no longer got "it", he's overhyped, everyone's figured out his game. Worst of all, he lost his Mojo and has became one of the worst punchlines in tennis history.
Mojo jokes aside, I'm not buying into any of it. He's only 23 and it's a bit premature to toss in the towel and say that his career is over. The negatives this year haven't completely outweighed the positives. He's made a lot of improvement to his game over the past year, particularly in his fitness, his movement, his backhand, and slice, and he will keep improving. His win over nemesis Lleyton Hewitt at the Cincinnati Masters this year was sublime and long overdue. It may well be the beginning of the end of Hewitt's dominance over Roddick. And who will be the next monkey Andy finally gets off his back? Agassi? Federer? He has some scores to settle in 2006 and I don't doubt that he is jonesing for some theraputic revenge.
***
Vote for Andy in the ATP's Mercedes-Benz
Play of the Year Contest.
You have until November 21 to cast your vote.
***
Andy is mentioned in
this week's
Tennis Mailbag:
Roddick could hardly move against Ljubicic, losing in the Paris Masters semifinals. After the match, he said his injury may prevent him from going to Shanghai for the Masters Cup Finals. Yet on Monday, Andy is in Philadelphia playing four sets of singles in a charity exhibition! Granted, it was an Elton John charity, and Elton always reciprocates to Andy's charity events, but isn't Andy risking a lot more by playing this exhibition? Especially with Roger Federer coming off an injury, Hewitt not showing up, Marat Safin out--Andy's chances of winning this big tournament are much improved. But he seems willing to blow it off so he can do charity exhibitions. Isn't that foolhardy?--Mary Durkin, Los Angeles

Roddick was in a tough spot. If he pulls out of the exhibition, he is yet another me-first tennis player who can't honor a commitment. The event suffers and his mettle is called into question. ("Sore back? Come on, you wuss. You're just playing hit-and-giggle for a few sets alongside Rocket Man, for Chrissakes!") On the other hand, when he plays and then withdraws from Shanghai the following night, it looks pretty shabby.

The real question, I suppose, is this: Why would Roddick schedule an exhibition in Hershey the week between a Masters Series event and the Masters Cup? Yes, Elton John is a buddy. And yes, the event benefits both World TeamTennis and AIDS research. But for a guy who's been complaining vocally about the length and rigor of the tennis season, playing a November exo in the middle of Pennsylvania isn't exactly the best way to conserve your battery. One of Brad Gilbert's complaints with Roddick was that he over-scheduled. Wonder what he would say about this?
***
If you live in North America, check out the
ESPN TV schedule
for the upcoming Masters Cup.
News: