HEADS UP, UK FANS. Andy Roddick will be the December 2005 cover boy for Britain's ACE magazine.
***
Welcome to the No Masters Cup. With
Rafael Nadal's
and
Andre Agassi's
eleventh-hour withdrawals from Shanghai this week, the TMC has sadly managed to out-circus itself.
Roger Federer
is now the only remaining true Master whom the fans (and Shanghai promoters) will be pinning all their hopes on. He is aware of the burden that he carries and has
stated
that the promoters' anger towards the players, in particular Andre Agassi, is understandable.
The media pounced on this latest blow to TMC Shanghai and they haven't let go in the days since.
Here's
a good article from the
Times Online
with some choice Roddick-related quotes:
A wager was struck between two writers yesterday, in which the one who has travelled the circuit for 40 years invested in his belief that, at the present degenerative rate, Rafael Nadal and Andy Roddick will not be competing at the top of the game in five years. If his forecast bears fruit, then the sport really will have torn itself apart from the inside. [. . .]

It is only four years ago that Pat Rafter, of Australia, whose game was based on flowing athleticism, gave up the unequal struggle at the age of 28 and settled for more golf and time with his young family.

We can but hope that such a situation is distant for Nadal and Roddick, though I recall walking through Heathrow customs on the way home from the Great Britain Davis Cup tie in Switzerland in September, straight into Roddick, who was stopping over having played for more than four hours in a final rubber against Olivier Rochus, of Belgium, a match that drew hardly a note anywhere else in the world. He said he had never felt so mentally and physically exhausted and who really cared?

Roddick responded to my request for a few words last week on having to withdraw from the Masters Cup by saying that he was "too down to speak". One hoped it didn't mean the injury was worse than feared and that he will be fit for a full schedule--perish the prospect--in 2006. He has to look after what is best for him, for few else will.

We are attending a Masters Cup with very few masters and what more alarming wake-up call does tennis want than that?
Here is Roddick Watch's one-size-fits-all solution:
Andre Agassi
for Comissioner. The end.
***
Tennis-X
is reporting that Roddick has signed a deal to represent
Lacoste sunglasses
. Thank goodness somebody finally had the guts to tell him straight-up that he needs to stop dressing like a dweeb and get some stylish new shades.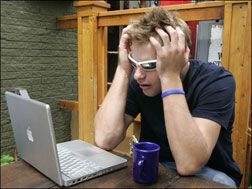 LACOSTE TO THE RESCUE. Andy's dork days will finally be behind him.
Speaking of Lacoste, thanks to
athena_wu
over at
MTF
for
this picture
of an in-store poster of Andy from the Lacoste store. I'm liking the blue striped shirt (why doesn't he wear colorful stuff like this for matches?) and the uncharacteristic one-handed backhand pose. No wonder he looks a bit stupified.
"Did I really hit a one-handed backhand?"
Yes, Andy, you did! woo! woo! woo!
***
In
Davis Cup
news, the USTA has selected
La Jolla Beach & Tennis Club
in California as the site for the 2006 Davis Cup World Group First Round Tie, USA vs Romania.
Andy Roddick and Bryan Brothers Expected to Lead U.S. Team Against Romania

WHITE PLAINS, N.Y., November 14, 2005 -- The USTA today announced the La Jolla Beach & Tennis Club in La Jolla, Calif., as the site for the 2006 Davis Cup first round match between the United States and Romania, February 10-12. The match will mark the first time since 1996 that Davis Cup will be played in the San Diego area. Andy Roddick and the No. 1 doubles team in the world, Bob and Mike Bryan, are expected to represent the United States. Other potential U.S. players include Robby Ginepri, James Blake and Taylor Dent.

Tickets for the three-day, best-of-five match series will go on sale to the general public December 5 and can be purchased by calling (888) 484-USTA. Tickets will be sold as a three-day series with prices ranging from $90 to $375, with VIP packages available. Visitors attending the three-day event can book advance guest room reservations at the La Jolla Beach & Tennis Club or the Sea Lodge Hotel by calling (800) 656-4980. For more information, visit online at www.ljbtc.com or www.sealodge.com.
Hopefully, some tennis fans will be on-hand to loudly cheer on Team USA this time around, unlike what happened in Carson, Calif. earlier this year where all we heard was noise pollution from way too many Croatian fans in the stands.
***
Roddick's
official site
is reporting that The Andy Roddick Foundation will be honored by receiving the Outstanding Foundation Award presented by the Association of Fundraising Professionals at the National Philanthropy Day Luncheon held at the Broward County Convention Center in Fort Lauderdale, Florida. Congrats to Andy!
News:
• China crisis [
BBC
]
• Tennis year ends with wimpers [
NY Times
]
• Tennis stars run off their feet [
Hindu.com
]
• Chinese dismayed as stars drop out [
CNN
]
• Injured Agassi concerned about player burnout [
The Star
]