Roddick def. Ferrer 2-6 6-3 7-6 (10-8)21 images from today's match were added to my new photo gallery. Enjoy.
Where to begin? Well, the first set was a disaster from the start. Roddick could barely get any first serves in and his groundies were weak while Ferrer came out swinging and broke Roddick immediately. Lasting 40 minutes, Roddick had 5 aces, while Ferrer had 17 winners and 8 unforced errors and was 2-for-5 on break chances. The first set was so error-strewed that when a baby began crying Roddick turned and said, "I know it's bad but it'll get better."
After Ferrer broke Roddick for the second tme in the first set, it was clear that something was wrong as Andy began to grab at his back. Sure enough, during the changeover he called for a trainer to look at his back. "It burns," Andy reportedly said. The trainer worked on Andy's lower back. "How does that feel?" he asked.
"Holy shit,"
was Andy's response, which can't be taken as a positive.
At the start of the second set, with Andy's mobility hampered, David began to kill him on his second serves and cruised on his own serve while Andy continued to struggle in rallies and felt the pressure on his own serve. The only thing that kept Andy in the match was the aces, which he could still hit with decent power, but then he wouldn't be able to chase down many balls that Ferrer would get back. After a long rally in the second game, Roddick didn't even try to reach a backhand winner by Ferrer.
At 2-2 in the second, it became a dogfight for Roddick. Not only was he trying to fend off the attacks from the Spaniard but also the pain in his back He did not have a service game where Ferrer did not at least get to 30.
Amazingly, thanks in part to Roddick's stubborn nature, Ferrer choked while serving at 3-4 and Andy finally managed to break and then serve for the second set. Roddick aced him and Ferrer complained to the line judge, prompting boos from the crowd. Rarely will you see the French rooting for an American, but here they can't get enough of Roddick.
Third set, Ferrer is still cruising on his serve, holding at love most of the time. Andy continues to struggle for a few games, still not able to get a look on any of Ferrer's service games. Ferrer finally breaks Andy for 5-3 and a chance to serve for the set and match. But the crowd is firmly in Andy's corner and they start a slow clap as Andy manages to fight back for the break at love-40. At 15-40 Ferrer chokes again and Andy, pulling another magic trick out of his famous rump, takes the break back and is on serve at 4-5.
Ferrer is looking a bit sluggish but he still manages to get to 30 on most of Andy's serves. Andy holds for 5-all. On serve again, Ferrer manages to hold again at love, 6-5. Andy digs deep to pull off some great serves of his own and at 15-40 he holds for 6-all. TB time.
After going back and forth a bit, Andy finally has MP at 6-5 but Ferrer stays alive with a drop shot at the net, levels it again 6-6. Andy hits an insane 234 KM/H serve to level the TB again at 7-7. Then they go up 8-8. The TB is ridiculous and nerves are on edge. Andy pulls off a brilliant cross-court winner on the run to remain alive at 9-8. Ferrer cannot take Andy's serve and Andy finally wins the TB at 10-8 and the crowd is roaring and on its feet.
Andy matches the crowd's applause and blows kisses at them (a rare gesture from Roddick!). In the best match at Bercy this week, Roddick defeats David Ferrer in a come-back 2-6 6-3 7-6 (10-8) victory, battling against some brilliant play by David Ferrer, and a niggling back injury.
Congratulations Andy. You've now rendered your blog hostess speechless for a second day in a row. I can't take all this brilliant playing from you.
Click here for audio of Andy's press conference.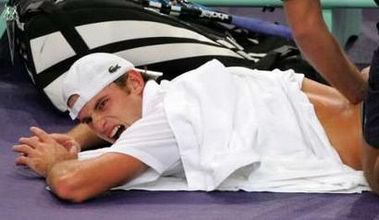 "Hey! That tickles!"
Recap of today's match from
BNP Paribas website:
Determined Roddick advances to the semifinals

Andy Roddick, of the United States, seeded number 1 of the tournament is still in the race for the title.The American proved his number 3 ranking in the world by dominating hard working David Ferrer of Spain seeded number 10, 2/6 6/3 7/6(8) in 2h12.

Funny enough, the match started off by Roddick losing his serve, an event in its own as the American had not lost his serve since the Davis Cup tie versus Belgium last September (8 matches in a row). Ferrer went on to break the American once again when up 4/1. Two games later, Roddick received medical treatment for a back pain, and logically, the set went to the Spaniard 6-2.

In trouble again

In the first game of the second set, Roddick found himself in trouble again, as he face three break points. With an ace and the help of his opponent (two unforced errors), Andy got out of this slump. In the 8th game, it was his turn to grab his opponent's serve, and a little later, it was one set a piece.

The final set was climatic. Both players held serve up to 4/3, at which point David Ferrer gave himself the chance for a decisive lead. Up 15/40, the Valencia resident slapped a forehand return forcing Roddick to miss.

Up 5/3, the Spaniard, over confident, served a double fault and three unforced errors later gave Roddick the opportunity to level things at 5 games a piece. An opportunity that Roddick did not miss!

"A-Rod", "A-Rod"

The two players went to the tie breaker. A first match point is saved at 7-6 by Roddick with an ace timed at 146.25 Mph. A few moments later, Ferrer had another opportunity to seal the match, this time, on serve. Back against the wall, Roddick hit an unbelievable cross court forehand passing shot, refusing to die.

The fans (around 12 000 people) were on their feet, shouting and screaming: "A'Rod", "A'Rod". Two points after saving the second match point against him, Roddick had a matchpoint in his favour. Wind up.Serve. See ya !

The American will play his second semifinal in Bercy (after 2003). And the awaited heavy hitter showdown between Roddick and Ivan Ljubicic will take place as hoped… -- Eli Weinstein
Semi-final Preview: Roddick vs Ljubicic an explosive duel
Can Andy Roddick stop Ivan Ljubicic? The task looks extremely hard, considering the quality of tennis shown by the Croatian this year. In the last few weeks, he has captured two ATP events (Metz and Vienna), and came very close two weeks ago, to adding the ATP Masters Series Madrid to his list of wins. There, he only bowed in the final, 7-6 in the final set, to the world No. 2 Rafael Nadal.
For Ljubicic, the key word is confidence. Having worked extremely hard with Italian coach Ricardo Piatti, he is playing as though nothing can happen to him. His huge serve, his physical condition, and the power he can generate on his shots are weapons on which he knows he can rely. Although it is already likely that he has secured a spot for the Tennis Masters Cup in Shanghai, he is keen on going all the way in Bercy in order to put all the chances on his side, as well as capturing his first ever ATP Masters Series.
On Friday night, Andy Roddick saved two match points before miraculously escaping defeat against an extremely inspired David Ferrer. Although he dropped his serve for the first time in eight matches (three times!) Roddick's near-defeat may give him extra energy to try and earn his spot in the final. But he knows the value of his opponent, as Ljubicic won their last encounter, this year, in a thrilling Davis Cup tie.