Roddick def. Hrbaty 6-1, 6-2
Were you sitting down when you read that? Good. Because I'm in
shock and awe
right now. If you blinked, you missed the match. 50 minutes was all it took. I went out to get pizza for lunch, came back and it was over. Dare I dream that the old Andy is back? *pushes dream away* No! I refuse to get my hopes up only to be disappointed again! But I will celebrate this one win for what it is: awesome.
Here's Andy's match breakdown:
85% of 1st serves
26 winners
16 aces
10 UEs
0 DFs
88% of first serve points won
67% of second serve points won
4 breaks and no breaks against.
A-Rod has now held serve for 106 consecutive games since USO, not including Davis Cup.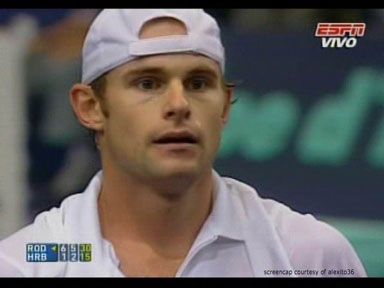 SHOCK AND AWE. Hrbaty never knew what hit him.
Click on this link to hear audio of Andy's press conference.
From the AP wire:
Roddick blitzes into Paris quarter-finals

Top seed Andy Roddick fired down 16 aces as he crushed the feeble resistance of Slovakia's Dominik Hrbaty 6-1, 6-2 to reach the quarter-finals of the Paris Masters on Thursday.

The 23-year-old Texan needed just 50 minutes to book a clash with Spain's David Ferrer for a place in the semi-finals as he chases his sixth title of the season.

Compared to the struggles he faced in beating compatriot Taylor Dent in the second round, where he saved 11 break points, Thursday's third round clash was a barnstorming display which breathed some much-needed life into a moribund tourament.

To emphasise his dominance, Roddick gave up just three points on his serve in the entire second set. He has not been broken since the Davis Cup clash against Belgium in September.

[click on link to hear audio]"I played really well tonight which was great because I felt I was lucky to get through the second round," said Roddick who won his fifth title of the season in Lyon last week.

"During Lyon, I felt I played better and better and I'm happy to be in the quarter-finals here."
Post-match review from the
BNP Paribas website:
Imperial Roddick

After struggling on Wednesday against a determined Taylor Dent, Andy Roddick seems to have found his cruising rhythm. Poor Dominik Hrbaty proved helpless as he was only able to take three games from the American, bowing in just 50 minutes.

The key of this round of 16 match, was the serve. It is Roddick's No. 1 weapon, and the American served 84% first serves, and scored 16 aces. As for Hrbaty, he could only pass a mere 52%, and wasn't able to ace his opponent once.

Fiercely confident, Roddick never faced a single break point, as he remains unbroken since the beginning of his European swing which took him to Madrid and Lyon (where he captured the title), before coming to Paris. "It's probably the highest first serve percentage I've ever had in a match" Roddick said afterwards. "You never really expect matches like that out there, especially after yesterday. Today, I felt comfortable with pretty much every aspect of my game."

In the quarters, Roddick will meet Spain's David Ferrer for the first time. "He's tough. He just goes with the mindset that he's going to make you earn every single point. He puts in about as much effort on a day to day basis, as anyone on the Tour. I have a lot of respect for the way he goes to work every day."  The respect is most likely reciprocal. -- Georges Homsi
23 photos from today's match have been added to my Photobucket gallery. Enjoy.Quarterfinal Preview: Andy Roddick vs David Ferrer
Andy Roddick didn't spend too much time on the court on Thursday. Against the solid Slovak Dominik Hrbaty, Roddick only needed 50 minutes to gain his place in the quarterfinals dropping only three games. And to date, he still hasn't lost a single service game since he arrived in Europe two and a half weeks ago. After struggling to defeat Taylor Dent in his opening match, he now seems to have found the level of tennis which allowed him to win in Lyon last week. These are bad news for David Ferrer who produced some excellent tennis to defeat Tommy Haas. Strangely enough, Ferrer and Roddick have never met to date. The American will be a strong favourite, especially if he proves able to play as well as against Hrbaty.
News:
•
What Roddick wants is a little respect
•
No-limit play at Roddick's house
•
Roddick reaches Paris quarters
•
Roddick delighted after Hrbaty romp
•
Roddick turns on power