Even though Andy Roddick's season is now over, that doesn't mean there won't be any more news, quips, quotes, rumors, or photos of Roddick to pick apart and ruminate over for the rest of the year. Au contraire. Our young man will be busy fulfilling sponsor and charity duties throughout the holiday season. And if that's not enough, there's always the garbage heap known as internet tennis messageboards to occupy and entertain us with their constant prattling over anything Roddick.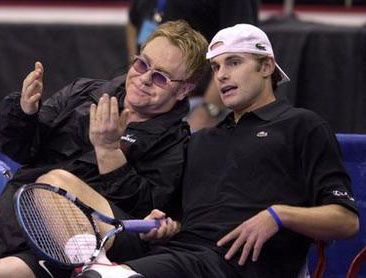 MAKE THEM STOP TALKING ABOUT ME. Andy Roddick gets some advice from Sir Elton John during the World Team Tennis Smash Hits event in Hershey Monday. Photo by Vinny Tennis / Intelligencer Journal
***
LancasterOnline published a short piece today called
Groundstrokes and air miles
about tennis players' and their frequent flier miles. A few choice quotes are posted here. You can read the entire article below in the
News
section:
One-way flight from Paris to Austin, Texas: $3,000.
Next-day flight from Austin to Philadelphia: $350.
Playing mixed doubles with Elton John at an AIDS charity event against Anna Kournikova and James Blake: priceless.
And that was just Andy Roddick's Sunday morning through Monday afternoon.
Think the half an hour to work is a pain each day?
Try 5,100 miles from Paris to Austin to get home, and then another 1,300 miles from Austin to Hershey for work the next day.
Ken Myerson, Roddick's agent, said that his travel from Paris to Hershey was one of the more strenuous trips he's dealt with in the recent past.
In typical Roddick fashion, though, he made light of his trip.
"I had a lot of coffee ... and that definitely helps," he said. "The sport is extremely international, so (traveling great distances) is not completely unheard of," Roddick said.
This is the just the latest article of many that have been written in the past several months over the strenuously long tennis season (11 months) that takes a huge toll on the players (as evidenced by the number of absentee top players for the Masters Cup in Shanghai this year), and once again a call is being put out to the ATP officials: What exactly do you guys plan on doing to protect the integrity of the game? When
Roger Federer
is constantly
dropping hints
about how his still-healing ankle may prevent him from playing in the season-ending Cup and
Kim Clijsters
is saying that she doesn't care about achieving the No. 1 rank, she just wants to go home and sleep--what more will it take before it finally sinks in that something has to be done about the scheduling? Why is the idea of pushing the Australian Open forward by one month such a difficult task? Who's listening?
***
Charles Bricker
of the Florida Sun-Sentinel, who wrote a terrific
blog
of the US Open experience this year, seems to think that Roddick's road to tennis glory will be even tougher next year, thanks in part to the emergence of brilliant new tennis talent in the forms of Rafael Nadal, Andrew Murray, Richard Gasquet, and Tomas Berdych, all of whom will be fighting to unseat Roddick, Hewitt, and Federer from their comfy positions atop the ATP totem pole :
Roddick will face difficult road in 2006

There were a number of happy memories for Andy Roddick during his fifth year on the ATP tour.

Scaling down his number of tournaments in order to stay fresh, he still won five tournaments, reached the semifinals of the Australian Open and was runner-up at Wimbledon. At 10-3, he won a high percentage of his clay-court matches.

But there is no escaping the disappointments and failures. He was knocked out in the first round of the U.S. Open by Gilles Muller of Luxembourg and failed to hold a two-set lead over Jose Acasuso in the second round at the French.

He also fell one notch in the rankings to No. 3, behind Roger Federer and Rafael Nadal, and it's unclear if he'll ever rise above those two great talents. None of the five tournaments he won were Masters Series events, though he finished the regular season with an 8-1 run and is at a significantly higher fitness level than he was at the end of 2004.

He's a better player than he was in 2004, but he'll have to redouble his training efforts--and get over the back injury that kept him out of next week's Tennis Masters Cup in Shanghai--to stay in the top five during 2006 because of the dose of young talent making an impact.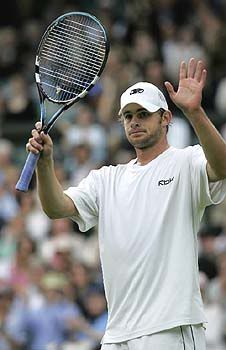 Andy Roddick will have to get over the back injury that kept him out of next week's Tennis Masters Cup in Shanghai to stay in the top five during 2006 because of the dose of young talent making an impact. Andy says (as imagined by Roddick Watch): "Quit writing me off!"
A few quick comments from me:
1) Federer is the least of Roddick's problems right now, but his win over Hewitt in Cincy was remarkable in that it showed us that Roddick is capable of moving out of comfort zone, changing tactics and out-thinking a troublesome opponent. Believe it or not, not many players are capable of doing this. They live and die by their game alone and change nothing which is why their rankings remain the same. This is a positive precursor to future meetings with Federer;
2)
Nadal is unproven vs. Roddick
on the hardcourts. Their only meeting was at USO 2004 and Roddick bageled him and won in straight sets. Remember, too, that Roddick--he of the European clay allergy--took a set off Nadal at the Davis Cup finals in Spain last year. No dice until they meet again;
3) his game is in transition and one of the mistakes I feel that Team Roddick did was focus too much on improving some weaknesses that will never become a weapon. By doing so, Roddick's confidence has been steadily chipped-away at for over a year. This lack of confidence not only affects the weak parts of his game but his strengths also suffer and as a result, Roddick wasn't hitting his go-to shots (forehand and serve) with nearly as much authority as he used to several months ago and hence, the
shock first-round exists
to a Mr Nobody. No confidence = no intimidation factor. Go back to the basics.
4) the other upcoming tennis stars such as Andy Murray and Tomas Berdych may be oozing in talent and lacking in fear but they are also unproven against Roddick. Having a
shock win
over Roger Federer doesn't mean anything either when you go up against a separate player. Tim Henman, you'll recall, had a huge winning lead over Federer for quite a while but not once was he able to get one over on Federer's lesser equal, Lleyton Hewitt. Now they both wholly own him. How quickly things can change in just a year.
News: